PA SCUBA Supply is an authorized dealer for EDGE & HOG brand dive gear

We match competitor pricing on all new EDGE/HOG gear. If a competitor has a sale it is our sale too!

Click logo Above to Download full catalog. Popular items listed below.

Use the link above for a 5% discount on Deep 6 Gear
Deep 6 gear is sold only thorugh their website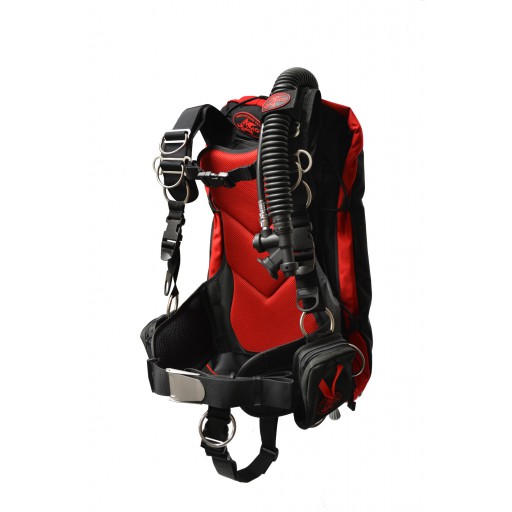 NEW!! Total Buoyancy Control System by HOG $449.95 - Lowest price allowed.
Click here for more information
.
EDGE Element Sport BCD

$399.95
The Edge Element BCD is designed to be the perfect BCD for a myriad of divers and their unique uses. Dive Centers will find the Element's rugged simplicity,
easy adjustments, user friendly features and affordable price make it a perfect rental or training BCD. New divers will find the Element an excellent BCD for
exploring their new past time and allow them the benefits of personal BCD ownership without breaking the bank. Traveling Divers will appreciate the durability of
the Element, its lay flat profile and light weight making it an ideal travel Front Adjustable BCD.

• Constructed of 420 Nylon for durability and minimal weight
• Lift Capacity of 27 to 45lbs depending on BC size
• Padded backpack with carry handle
• Adjustable Waist Cummerbund
• Two large zippered pockets for accessory storage
• 5 Strategically placed Stainless Steel D-Ring Attachment Points
• EZ-Connect Tank Attachment Strap
• Two squeeze to release 10 lb integrated drop weight pockets accommodating up to 20lbs
• Two non-dropping 5lb rear trim weight pockets accommodating up to an additional 10 lbs
• Edge Mini Inflator with rubber LP inflation hose

Buy this package and get a free mesh dive flag duffle bag!

Premium Life Support Package

$749.95
This package includes the Edge Element BCD and the Edge Epic sealed yoke regulator set for one low price.


EDGE Epic Regulator System


1st Stage
• Yoke Connection with Environmental Sealing System
• Constructed of Satin Finished Trivalent Chrome Plated Brass
• High Performance Low Profile Balanced Diaphragm 1st Stage
• 4 LP Hose Ports & 2 HP Hose Ports
Specifications:
Size: 7cm tall x 4 cm wide x 8.5cm deep
Weight: 1lb 14.4oz/ .86kg
Uses Annual Service Kit: EDG0359
2nd Stage
• Pneumatically Balanced for effortless breathing
• Chrome plated brass Air Barrel retains heat and moisture in cold water
• Blue soft touch Silicone front cover for purge ease and cover durability
• User adjustable external breathing resistance adjustment knob
• Venturi on/ off control
• Chrome Plated Comfort Swivel with 28inch EdgeFlex hose eliminating jaw
fatigue and hose pull
• Black/Blue Composite Silicone Softbite mouthpiece

2013 Scuba Labs Best Buy



EDGE Escape Safe Second Octopus


• Pneumatically Balanced for effortless breathing
• Chrome plated brass and plastic air barrel reduces weight and cost
• Yellow soft touch silicone front cover for purge ease and cover durability
• External breathing resistance adjustment port and multi position air flow control vane
• 40 inch Hi-Vis Yellow EdgeFlex hose
• Black/Yellow composite silicone softbite mouthpiece



EDGE Precision Console


• Chrome plated brass housing with a o-ring sealed thermoplastic lens
• Oil filled 1.5 inch depth module with max depth indicator needle
• Depth reading 0-220 Foot in 20 foot increments
• 1.5 inch rear facing Northern Hemisphere oil filled compass
• 32 inch Rubber HP Hose
• Luminescent White gauge faces
Classic D1 Single Tank Package

$549.95
Everything you need to assemble your high performance single tank regulator
setup. All you need is your choice of SPG and High Pressure hose.
Includes:
• 1- D1 Din Sealed first stage
• 2- Classic Second Stages
• 1- 7ft LP hose for the primary (5ft hose available for open water divers)
• 1- 22" LP hose for the secondary
• 1- Din to Yoke convertor
• 1- Bolt Snap
• 1- Delrin Din Cap
To place your order, call 814-422-5383, or email scott@pascubasupply.com. Online shopping cart coming soon!